NEW DELHI: Mohammed Siraj had put his heart and soul into his bowling in Australia when the Indian team was there last in 2020-21. He lost his father while he was in Australia, ahead of the 4 Test series, but stayed on to play. He made his Test debut in the second Test in Melbourne and had match figures of 5-77.
As India stood on the cusp of a win in the fourth and final Test in Brisbane, Siraj found himself standing behind the boundary rope. And when Rishabh Pant smashed Josh Hazlewood for the match-winning boundary in the Gabba Test to win the series he ran towards the two Indian batsmen at the crease – Pant and Navdeep Saini – to hug them and then took out one stump as a souvenir. He then waved his hands at the crowd. His eyes were moist, a big smile on his face. He looked up to the sky and thanked God and paid a tribute to his father.
For the 28-year-old Siraj, who is gearing up for the rescheduled fifth Test against England, starting Friday at the Edgbaston Cricket Ground, the memories of that historic Australian triumph are still fresh. The Indian pacer now wants to lift another trophy, in England, this time.
"India are already leading the Test series and I am sure we will win this series. We want to win this series by winning the fifth Test, not by drawing it. The memories of winning in Australia are still fresh and I want my team to repeat those heroics in England too," Siraj told TimesofIndia.com in an exclusive interview in May this year.
(Photo by Gareth Copley/Getty Images)
If India are to win the series against a very high on confidence English outfit, which now has Ben Stokes as captain, Brendon McCullum as coach and the likes of Joe Root and Jonny Bairstow in ominous form, the fast bowlers including Siraj will have to play a big role.
India are leading 2-1 in the series and a win or a draw in the fifth and final Test (rescheduled Test) would give them a fourth Test series win on England soil. India last won a Test series in England way back in 2007. Playing under Rahul Dravid's leadership, India won the three-match series 1-0.
Siraj, who has 14 scalps in 4 matches in the current series vs England so far, is feeling very optimistic about India's chances of winning another Test series in England. Siraj was also India's highest wicket-taker in the last Test series against Australia in Australia, claiming 13 wickets in 3 matches.
"I am really happy that I have managed to perform well for India. My ultimate aim is to take as many wickets for my team as possible and take them to wins. I want to perform well in overseas matches. I know I have been performing well at home but I get a lot of happiness and confidence when I do well on foreign soil. I did well in Australia. When I got a chance in England, I performed there too. So, I am preparing myself for every condition, situation and format," Siraj, who has played 12 Tests and bagged 36 wickets so far, including one five-wicket and two four-wicket hauls, further told TimesofIndia.com.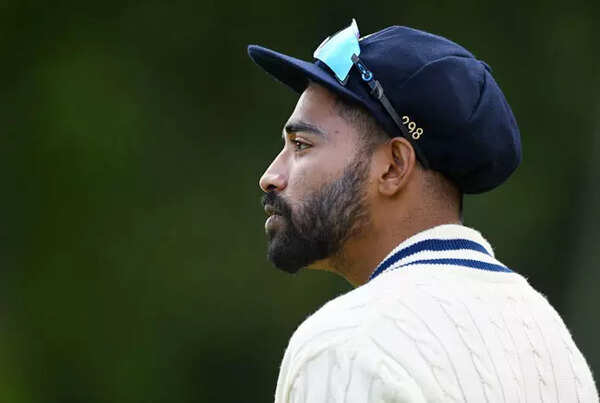 Mohammed Siraj (Reuters Photo)
SIRAJ'S HEROICS IN AUSTRALIA
The right-arm fast bowler took the challenge of bowling in Australia head on when India lost some of their key players to injuries on their last tour Down Under. An adamant Siraj ensured India ended the tour on a high. He played a vital role in India's 2-1 win against the Aussies. He also paid tribute to his late father, who passed away while he was in Australia, by finishing the series as the highest Indian wicket-taker.
"I trust my abilities. My captain and coach backed me a lot. Virat bhaiya supported me a lot. He calls me a champion bowler. He encourages me and shows confidence in me. I lost my father when I was in Australia. I was given the choice to go back, but I refused and decided to stay back. It was Virat bhaiya who supported me a lot, mentally and psychologically. I was crying and he hugged me and consoled me. He used to come to my room and say 'Mian, series jitna hai, tayyar raho perform karne ke liye' (we have to win the series, be prepared to perform well). He has scored a lot of runs and played match winning knocks for India. He is a great batsman and a great human being too," Siraj further said about the former India captain.
"I always tell myself – 'yes, I can do it'. This is something I say to myself on the field too. This is something that drives me forward and gives me a spark on the field. I want to be an all-format player for India. When the captain gives me the ball, my ultimate target is to uproot the batsman's stumps," he added.
'BEST PACE ATTACK' AND DRAVID'S ROLE
India have the likes of Mohammed Shami, Jasprit Bumrah, Umesh Yadav, Shardul Thakur and Siraj currently in their Test pace armoury. Rattling the stumps, turning the game on its head, controlling the flow of runs, bamboozling star batters with lethal yorkers and inscrutable swingers, the current Indian pace attack knows how to get the job done for their team. The two Australia triumphs and the England series were prime examples of Indian pacers showing their true mettle.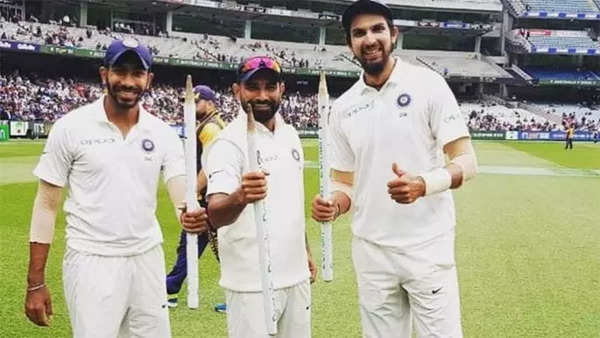 Image credit: BCCI
"There is healthy competition within the team. Everyone in the team has a lot of talent. This is a very good sign for Indian cricket overall. We have variety in our seam attack. Shami bhai, Umesh bhai, Ishant bhai, Bumrah and I – we all have different styles and have different variations. I am learning and will keep on improving," Siraj further told TimesofIndia.com.
Lauding head coach Rahul Dravid, Siraj said: "He is a wonderful coach. The best part is that he is approachable. He has solutions to every problem. I have taken a lot of advice from him and the way he explains things is really amazing. Such a knowledgeable person he is."
THE TRUST FACTOR
The last time India went to England, Virat Kohli was the captain and Ravi Shastri the head coach. Now, the team is being led by Rohit Sharma and Rahul Dravid is the head coach.
Siraj has played under as many as four Indian captains so far – Kohli, Rohit, KL Rahul and Rahane.
The 28-year-old has played 10 matches (all formats) under Kohli and claimed 24 wickets. Under Rohit's leadership, Siraj has taken 9 scalps in 7 matches.
"I have played under Rohit bhaiya also. He trusts me a lot. He trusts me and shows confidence in me the way Virat bhaiya did. I find that both Rohit bhaiya and Virat bhaiya are the same when it comes to captaincy. Both of them are good captains. Both back youngsters. Rohit bhaiya guides me on the field. He tells me where to bowl and what deliveries I should bowl in particular situations," Siraj signed off.